When you think of Memphis, you probably think of Elvis? Yes ok. But, what else is Memphis famous for?
Yes that's right, fantastic Southern food, music and an inviting atmosphere.
Did you know that Memphis just founded in the early 1800s and has around 700,000 people? It has huge parks to explore, and plenty of places to try Creole food or Cajun food. And of course, don't forget – rock n roll!
---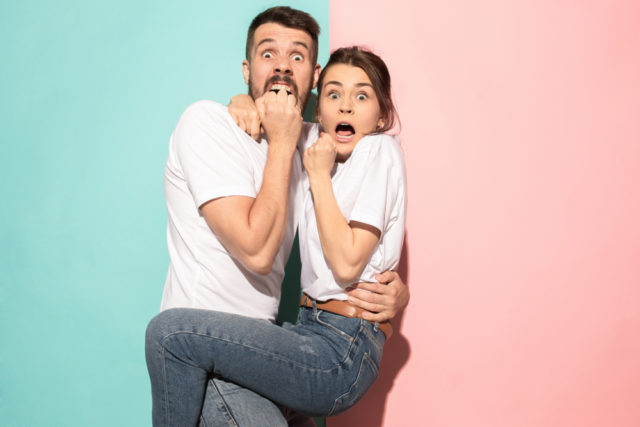 ---
So where's best to get your Memphis fix of music, food, and rock and roll culture?
1) Sun Studio
Sun Studio, also called "The Birthplace of Rock and Roll," signed some of the greatest legends in rock and roll history. Names such as Johnny Cash, Jerry Lee Lewis, and Elvis Presley mean you couldn't get closer to rock history if you tried.
There are lots of fun and curious things to see when you take the Sun Studio tour including Elvis's microphone that recorded his first ever song. You'll be guided by friendly, fun, and knowledgeable staff through to the Soda Shop and Record Store where you can purchase memorabilia.
Entry is free for kids aged between 5 and 11 but kids under 5 aren't allowed.
2) National Civil Rights Museum
Browse through the fascinating journey of the civil rights movement that crosses five hundred years. From the start of slavery to documentation of the Civil War this museum will bring alive years of important civil rights history.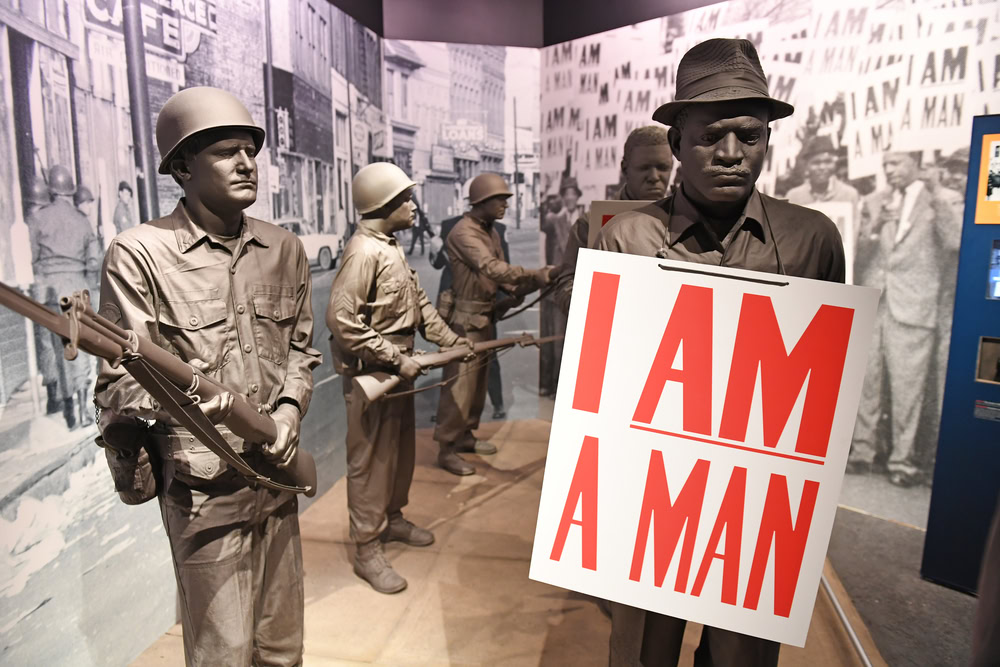 Films, personal accounts, historical objects, and listening posts will provide a fascinating and entertaining account of the Civil Rights movement in the US.
Exhibitions include: The Year They Walked and The Rise of Jim Crow. You can also see where Martin Luther King Jr was just before he died.
Residents of Tennessee get free entry on Mondays from 3pm.
3) Graceland
Graceland got its name from Grace Toof, a member of the Toof family that owned the original Graceland.
Elvis bought the property at only 22 years old in 1957. He hosted family and friends at Graceland over the 20 years he lived there.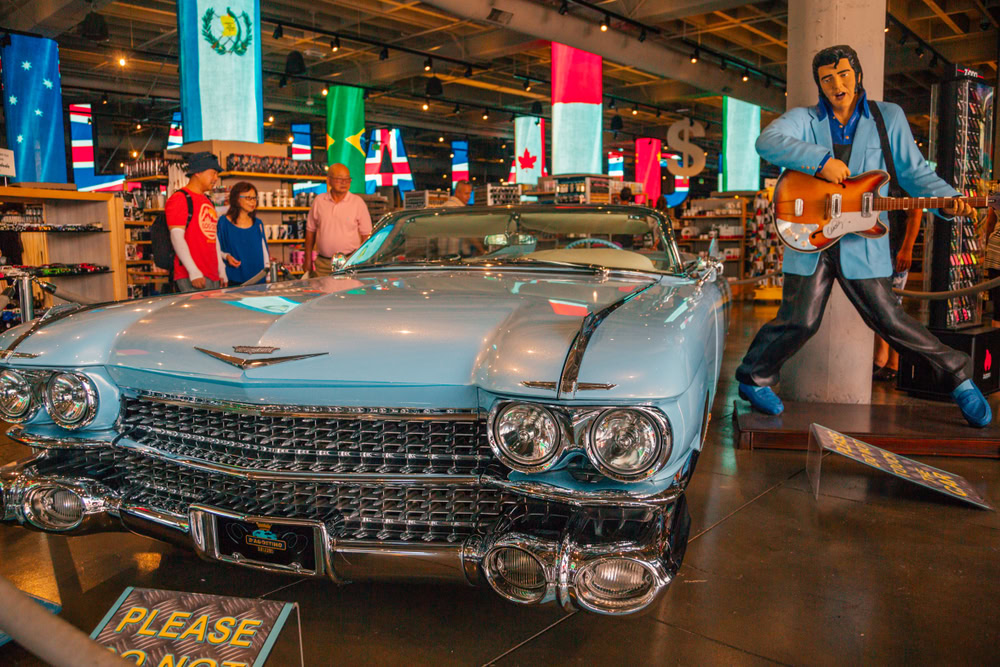 Now people still come to pay homage from all corners of the globe to pay their respects to the King of Rock and Roll.
The guided tour uses an iPad with headphones. The fascinating guide has a narration by John Stamos the actor.
Kids can do a special kids version of the tour. At the end you can buy all sort of memorabilia, clothes, gifts and accessories – all Graceland and Elvis themed!
4) Stax Museum of American Soul Music
Another musical must-see in Memphis is the Stax Museum, formerly the recording studio.
This is the only museum in the world that is specially tributed to American soul music. Soul music fans will be in awe of this treasure trove of soul history.
Browse through films, galleries, exhibitions, and see around 2000 artifacts as well as Isaac Hayes' Cadillac sporting white fur, 24 carat gold, mini-bar and television!
Every album and single released on the Stax label between 1957 and 1975 is stacked in the museum. Browse through a pay homage to the real soul music birthplace. Not to be missed.
5) AutoZone Park
This stadium is the base for the Memphis Redbirds.
It's smart, well maintained, with friendly staff you'll have a great family day out here. 175 Redbirds fans can fit on the party deck in the open air. Or you and the kids can play amusements and games at the Boardwalk. Why not catch the firework display at the end of a game?
6) Beale Street
A good ole Memphis day of retail therapy is just the ticket. There's a feast of things to browse, buy and wonder at.
So many things to look at old and new. From old vinyl, vintage clothes, art, games, you name it Memphis has it.
It's also a perfect place to meander round, stop for a drink or food at a riverside restaurant and breathe in the Memphis atmosphere. The place livens up at night so why not shoot down to BB King's Blues Club or the Rum Boogie Café.
7) The Peabody Ducks
Don't miss the adorable waddling ducks and their 'Duck March' from the elevator to the fountain at the Peabody Hotel. The ducks have featured at the hotel lobby fountain since 1933.
Every day at 11 o'clock am and 5 o'clock pm learn about the fascinating history of the ducks from the 'Duckmaster' which lasts around half an hour.
Your kids will just love it!
8) Memphis Rock 'n' Soul Museum
The Memphis Rock n Soul Museum has all you need to know about rock music and soul music. The museum has been going since 2000 and charts the history of major musicians who achieved musical notoriety despite the barriers of racism and economic hardship.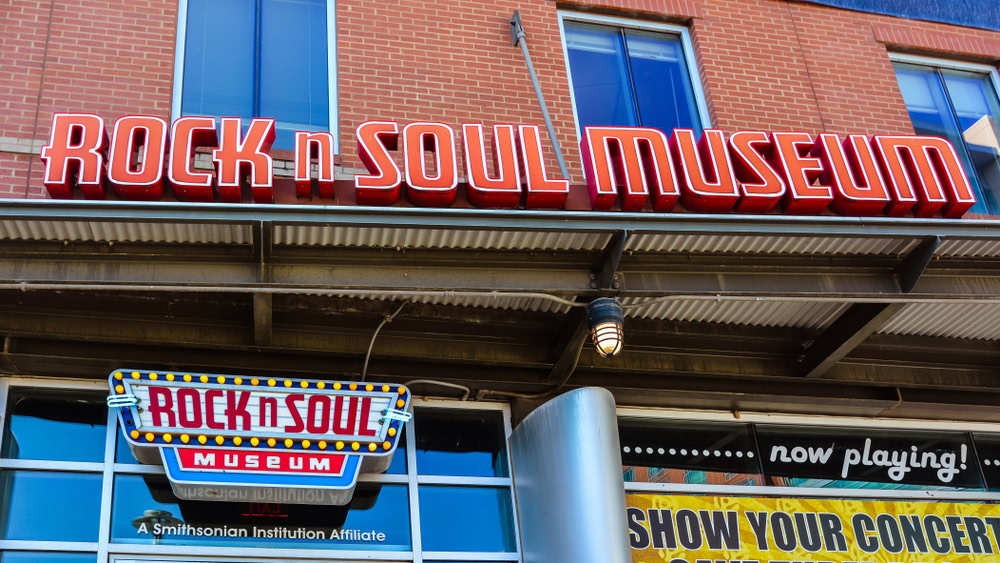 The museum takes you back to the beginning in the 1930s and moves through each decade. You will learn how Sun, Hi Records, and Stax came into being and see how Memphis came alive in the 1970s.
The audio tour lasts around 300 minutes if you listen to it all and you'll get access to over 100 famous soul tracks.
There are 7 galleries, featuring costumes, instruments, pre-recorded audio programs and so much more. Lose yourself in musical time, for a few hours before splurging on a few trinkets in the gift shop.
9) FedEx Forum
For a fix of basketball, fame don't forget the place where Memphis Grizzlies and the NCAA Div One basketball program are based, the FedEx Forum.
Here you can watch games for these famous teams as well as see shows, concerts and ice hockey games.
If you're after a great day out at a fun venue that sports friendly hospitality, is clean, easy to navigate this is an ideal choice.
The food's great too. You can choose from shrimp and grits, BBQ meats, craft beers, and popcorn!
10) Mud Island River Park
If it's a hot day a trip on the river is a great way to cool down. If you are heading to Memphis this is something you definitely should do.
What is Mud Island?
It's a peninsula situated along the Mississippi River. Wolf River Harbor was rerouted at the beginning of the 60s so it flows into the main river Mississippi.
The River Park was later developed in 1982 complete with amphitheater for concerts and a museum specially designed for the river.
Pedal boats are available or you can simply take a refreshing dip. There are plenty hiking and biking routes if you fancy exploring.
11) Belz Museum of Asian & Judaic Art
A fascinating museum, it is named after Mr and Mrs Belz who created it to share their collection of culturally significant collection of objects hailing from both Asian and Judaic history.
Originally called the Peabody Museum, it is host to incredible artefacts such as the Gian Carriage and Monkey King (which the kids will love) and a stunning jade sculpture collection.
The enormous collection is beautifully displayed throughout the property. In addition, a room full of photos of Memphis Holocaust survivors serves as a reminder to all who visit.
Another room is also dedicated to Oriental Jews.
12) Shelby Farms Park
Shelby Farms Park is the local community's treasure.
In the middle of Shelby County is this amazing park full of greenery and fun activities for the whole family.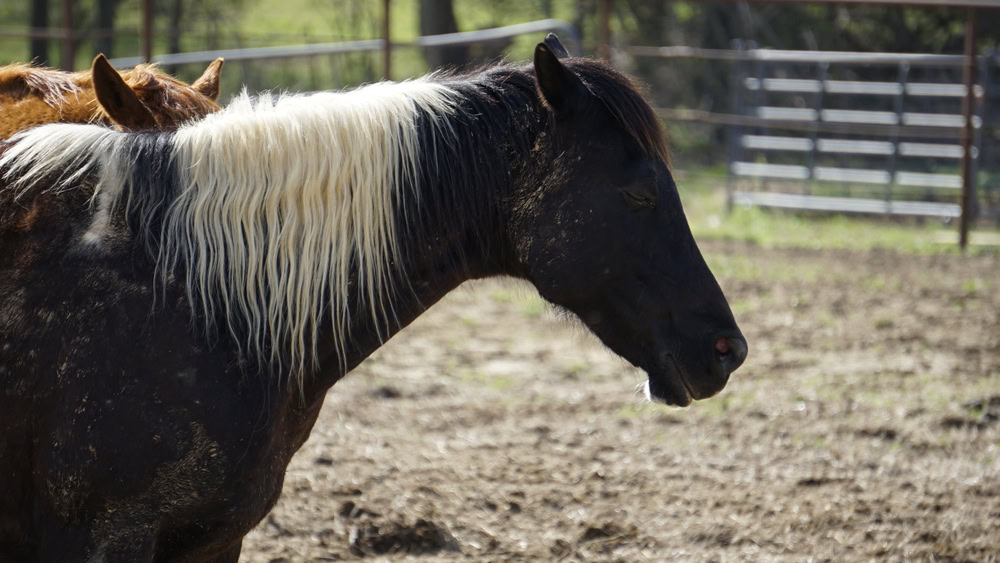 You can go fishing, go horse riding, bike, and hike. Kids can run free at a playground made with recycled materials. There are swings, play areas, and climbing nets. You can rest assured that your kids are safe as all areas have protective turf stuff.
If you're feeling peckish, there's always the food truck that serves hot dogs, burgers, soft drinks, nachos and sandwiches.
13) Elmwood Cemetery
If you're a crime writer fan then you may want to hit the oldest Memphis cemetery which featured in The Firm written by John Grisham. Here is where the funeral scene was filmed in 1993.
Explore 80 acres of dramatic beauty which is on the National Register of Historic Places. The cemetery features a Bird Sanctuary and Arboretum, the stunning Entry Bridge and Office Cottage.
Meander through oak and elm forests and tour the many graves of famous governors, mayors, senators and generals from all famous American conflicts.
14) Pink Palace Museum
Immerse yourself in the wonders of history and science at the Pink Palace Museum.
Suitable for people of all ages there's plenty of stuff to learn about and get your teeth into. It's just huge!
The attraction features a planetarium and IMAX theatre, a dummy of the first ever self-service supermarket, exhibitions, and dioramas.
The museum regularly features temporary exhibitions about Memphis history.
Entry is free on Tuesdays between 1pm – 5pm!
15) Slave Haven / Burkle Estate Museum
Memphis was the biggest slave trading area in the US in the 1800s.
This is an opportunity to learn about slavery in the area including a man called Jacob Burkle, a German anti-slavery activist who helped to protect and free African slaves.
This fascinating tour is a moving experience.
The guided tour takes you through the house including the trap doors, dark cellars, secret passages and where the slaves used to hide.
16) Bass Pro Shop
This retail experience is situated inside a 535,000 sq ft Pyramid where you can purchase practically anything you can think of.
It's not just for shopping though, the experience includes a massive water feature with 600,000 gallons of water, an alligator park, 100 foot tall cypress trees, a bowling alley, a huge aquarium, and the tallest glass elevator in the US.
17) Tom Lee Park
This acre park is 30 acres and a perfect venue for a family day out. You can find the park at Riverside Drive on Mississippi River.
Great for cycling, jogging or a pleasant stroll the park is also host to events such as Memphis in May, the Miss Piggy Idol contest, the Big Hog Run, and the Championship Barbecue Cooking Contest. There's also often live entertainment.
This is a perfect place for a day out whether it's Summer or Winter.
18) Memphis Riverboats
For an education about the Mississippi river you may as well learn on a riverboat. Kick back on a Paddlewheeler trip and take in the sites while the guide entertains you will a humorous run down of Mississippi River history.
The tour takes around 90 minutes and wildly entertaining.
19) Tastin' 'Round Town
When in Mississippi you just have to do a food tour with Tastin' Round Town. As barbecue is THE taste of Memphis you really can't miss out.
There are different tours to choose from depending on your taste. Perhaps you'd like a meal from an award winning contemporary chef? Or maybe a famous family Memphis restaurant?
Tours last around 3 hours where you get offered a taster in 4 to 6 restaurants.
This is also a great way to take in the architecture and culture of Memphis.
20) Children's Museum of Memphis
One for the kids this is a surefire venue to keep them entertained. They'll literally sleep like babies once the day's over.
There are around 30 museum play and learn exhibits for children to enjoy. Hands on learning, education programs will keep your kids constantly moving and playing.
Activities offered include an authentic supermarket, Lego, flying airplanes, a vacuum system to explore, fire truck, police car, and a car garage.
21) The Memphis Zoo
Memphis Zoo houses over 3,500 furry and feathered friends for the whole family to enjoy.
One special resident species is the zoo's pandas, there are only four zoos in the US that has pandas and Memphis is one of them. You can also get up close to animals at the petting zoo.
This is a well-maintained zoo. It's clean, the staff are pleasant and helpful, and it's a very enjoyable experience all round.
You can either buy lunch at the zoo or bring your own picnic.
22) The National Ornamental Metal Museum
Budding metallurgists, and scientists will love this museum. Here you can learn all about metalwork. Old metalwork, modern metalwork, how it's preserved, and collected. It's certainly worth a visit, there isn't a museum like it.
There's also a fascinating foundry building and smithy to check out. When you've finished you can relax on the shore of the Mississippi River.
23) Fire Museum of Memphis
In 1880, 53 have lost their lives while fighting fires. This museum is dedicated to these brave souls.
On approaching the Fire Museum of Memphis, a brick sculpture measure 22 foot high and 25 foot wide is visible. This is called the Memorial Wall and it is dedicated to those who died.
Under 10s will have a great time with the Fireman Sam interactive display. They can dress up in firefighting gear, experience a simulated fire in a kitchen, 'drive' a firewagon, put out a virtual fire, and navigate their way out of a maze.
The museum also features many fire-related displays both small and large.
24) Blues City Cafe
This famous café offers steaks, ribs, tamales, and delicious desserts (if you can fit one in!)
It's not just food this café is famous for. Some huge blues stars have played here including Jerry Lee Lewis, BB King, and Ike Turner.
After 9 o'clock in the evening the place comes to life with live music.
The Band Box is open to people of all ages until 9pm after which children move to the Cadillac Room while Mom and Dad can stay put and tap their feet to some quality live blues.
25) Cotton Exchange Building
Seeing as Memphis was the centre of cotton farming, this museum has everything you want to know about the history of cotton trading.
The museum takes you from the very beginning of cotton farming to the methods traders used to barter. This is a fascinating insight into the industry that created an empire and was to become a huge influence on American culture and economics.
It will be difficult for anyone to not find this museum interesting, there's something for everyone.
Staff are friendly, there are entertaining activities for children, and there's also a gift shop with interesting trinkets.