A survey by the website Slimger.com has shown that women prefer the dad bod to six-packs! You would've thought that was impossible, but it's apparently true. That's a good step forward for body diversity in general, and for acceptance.
Survey Shows 80% of Women Prefer the Dadbod
Slimger.com took a survey of nearly 150 online dating participants. 30% of the respondents said that body shape didn't matter at all when it comes to finding a partner. Only 20% said they preferred a man with a six-pack.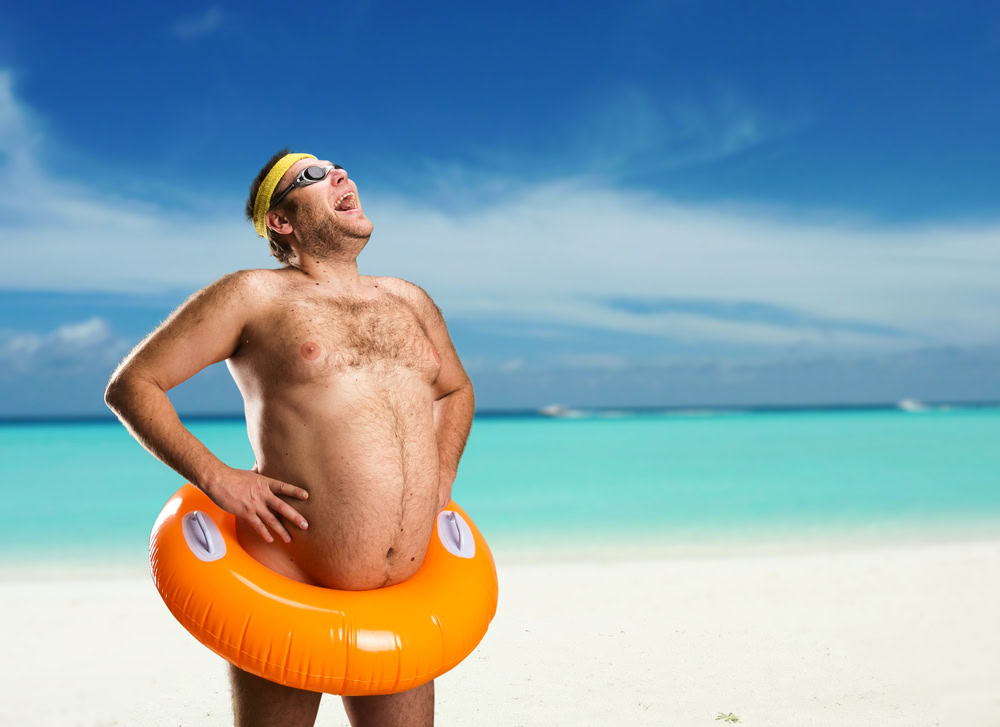 80% of the respondents to the survey said they preferred the round, soft male body to the more chiseled look. While this may be news to society in general, it's not news to Hollywood. The movie industry is known for casting Leonardo DiCaprio and other non-traditional physique actors. Even Seth Rogen is a Hollywood hero.
Yet, out in the real world, and especially on social media, celebrities are shamed for being out of shape.
The survey is a reassurance that society is mostly with men not keeping their bodies in Adonis-like shape. It proves that for now, women prefer the dad bod and there's not a lot you can do about it.
Where Does the Term Dad Bod Come From?
Dad Bod is a term that is popular in culture and refers to a body shape with middle-aged men. It's particularly present within US culture as a celebration as well as a criticism of a certain body type.
The physique doesn't have a particular description, but is usually seen as between muscular and overweight.
The term was first published in March of 2015 by 19-year-old Mackenzie Pearson, a Clemson Sophomore. Mackenzie was a psychology major at the university and enjoyed writing as a hobby. She wrote an essay for a magazine called 'The Odyssey'. She titled it "Why Girls Love the Dad Bod".
She doesn't claim to have invented the term since she heard it in social circles before. She claimed that a few friends preferred dad bods and called themselves 'the dadbod squad'.
Mackenzie defined the body type as being the result of working out occasionally, but also drinking heavily on the weekends. Also, eating 8 slices of pizza at a time.
Mackenzie Pearson argued that women prefer the dad bod because it makes them seem more "human, natural and attractive". She did however say that women love sculpted guys too.
The Fact that Women Prefer the Dad Bod May Promote Body Positivity
Celebrities and people in general have been body shamed on the internet for years. Hollywood star Jonah Hill admitted that he feels hurt when his body is discussed in the media. He said, "I don't think I ever took my shirt off in a pool until I was in my mid-30s,".
However, things have undoubtedly gotten better in the last decade as people have become more accepting. Rihanna's Savage X Fenty featured the first plus-size male model for its boxer briefs in 2020. Billie Eilish's body-shaming episode was treated with heavy criticism as well.
The Pandemic Has Likely Contributed to Why Women Prefer the Dad Bod
The COVID-19 pandemic has led to a sedentary lifestyle for most people forced to endure the lockdowns. Hence, sitting around at home has resulted in less toned bodies and more blubber around the edges. More weight gain in general as well as less opportunity to exercise or even leave the home have compounded the effect.
According to SFGate, Planet Fitness said, "Women don't want rock hard abs on their fellows, they want love handles. In fact, nearly seven of 10 found a few or 20 extra pounds to be attractive on men, researchers found."
Women are totally fine with the dad bod look. In fact, the findings of the survey have shown that women might even prefer it.
Women Are Different When It Comes To Their Own Bodies
Of course, what's true for men isn't the same for women. Even though more women prefer the dad bod, women don't feel confident within themselves to not constantly about their looks. In contrast, most men are a little less concerned about their bodies and a bit more focused on their wealth.