Who will Trump pardon? One bookmaker in the UK has been taking bets on whether Donald Trump will grant himself a Presidential pardon before the end of his term in office.
Trump is no stranger to granting clemency to his supporters before. Earlier this year, he commuted Roger Stone's sentence after he was convicted of lying under oath.
In 2018, Trump claimed the "absolute right" to pardon himself. This is claim disputed by many constitutional law scholars.
What power does Trump have to pardon himself and his associates, then? We already know that he can pardon a turkey.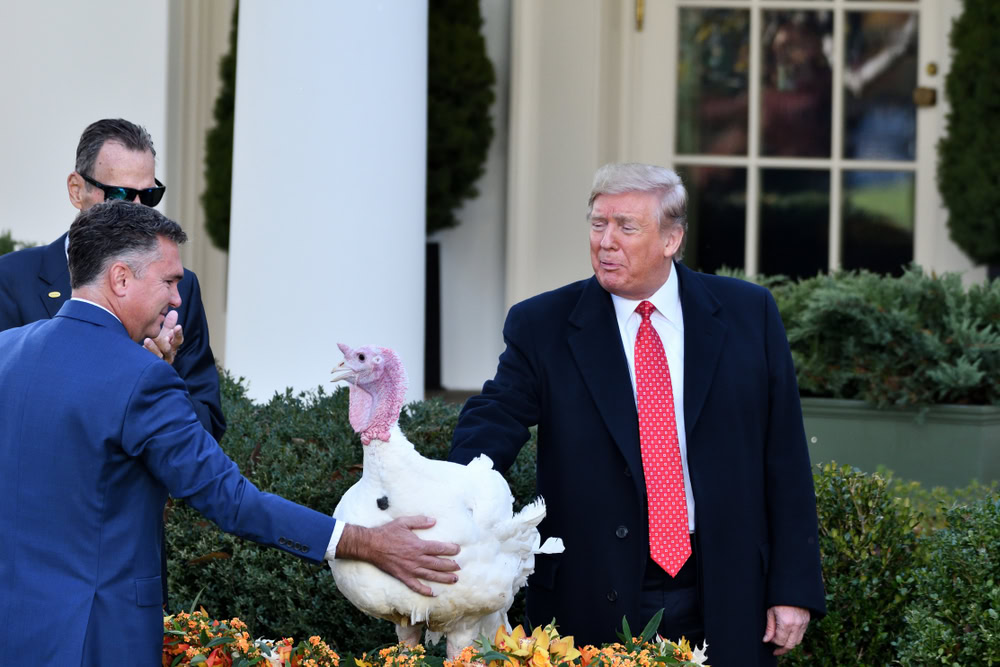 What are the Limits on Trump's Power to Pardon?
Trump's pardon power from the U.S. Constitution is broad in scope. The founding fathers wanted pardon power to serve the public good and to show mercy.
Although pardons are usually given to those who have been prosecuted, pardon power can extend to conduct that's not yet triggered legal proceedings.
Other branches of government cannot review pardons, and the president is not obliged to give a reason for issuing a pardon.
Pardons wipe out criminal convictions. A commutation differs. This leaves the conviction standing and erases the punishment.
Pardon power is not absolute, though. Also, a pardon only applies to federal crimes. This means pardons would not protect Trump's associates from the criminal investigation underway being conducted by state prosecutor Cyrus Vance, the DA for Manhattan.
The probe spearheaded by Vance started two years ago and originated from hush money payments made by Michael Cohen, lawyer and fixer, before the 2016 election. It was alleged that two women had sexual encounters with Trump. He denied these allegations and claimed the probe was politically motivated.
The DA has widened the scope of this probe to include insurance fraud, bank, and tax fraud. It is unclear at what stage proceedings are at with the investigation. No charges have yet been made.
Can Trump Pardon his Family Members?
Yes, Trump can legal pardon family members.
Former President Bill Clinton pardoned his brother, Roger, in 2001. He has been convicted in Arkansas for cocaine possession.
Clinton pardoned roughly 450 people, including Marc Rich, a Democratic Party donor who escaped the U.S. due to tax evasion charges.
Who else could Trump Pardon?
Trump pardoned Michael Flynn, his ex-national security adviser. Flynn admitted lying to the FBI concerning discussions with a Russian official before Trump assumed office in 2017. Flynn tried to withdraw this plea while awaiting sentencing, claiming that he was set up by the FBI. Since then, the Justice Department has been trying to get the case dropped.
A Preemptive Trump Pardon?
Trump could also preemptively pardon former New York Mayor Rudy Giuliani, his personal lawyer. Giuliani is under investigation on suspicion of breaking lobbying laws when dealing in Ukraine.
Could Trump Pardon Himself?
Since no president has ever tried this, there is no definitive answer.
Could the Vice President Pence Pardon Trump?
Back in 1974, a memorandum from a Justice Department lawyer stated that President Nixon could not pardon himself, but that he could step down, receive a pardon from his vice president, and then reassume power.
To achieve this, the president would need to invoke the 25th Amendment of the U.S. Constitution.
Nixon resigned in the face of almost certain impeachment following the Watergate scandal. He was pardoned by his successor, Gerald Ford.
It's unclear if Vice President Mike Pence would have anything to gain from pardoning Trump.